Nexus ProJoint Fusion Stone Paving Grout (Mid Grey) 15KG
Nexus ProJoint Fusion Stone Paving Grout (Mid Grey) 15KG
---
£31.66 excl. VAT
£37.99 incl. VAT
---
ProJoint™ Fusion™
The all weather paving joint compound – Mid Grey
A quick and easy solution to filling joints between paving slabs and setts, suitable for natural stone and concrete paving. Simple to use, ProJoint™ Fusion™ allows an untrained hand to consistently deliver perfect joints every time – whatever the weather!
ProJoint™ Fusion™ delivers a weed free, frost resistant joint, without staining the paving – saving you time and money.
Packaged in a vacuum packed pouch within the contractor-sized 15kg tub with lid colours that denote the product colour – ProJoint™ Fusion™ is available in four colours: neutral (buff), mid grey, basalt and black.
Collection from store or contact us to discuss shipping requirements
Collection from store only
Full Details
ProJoint™ Fusion™
Contractor-sized 15kg tubs
Suitable for use in wet weather
Professional strength
Pre-mixed, ready to use
Cement free and non hazardous
Suitable for pedestrian traffic: ideal for paths and patios
Perfect for DIY use
Suitable for natural stone and concrete paving, setts and slabs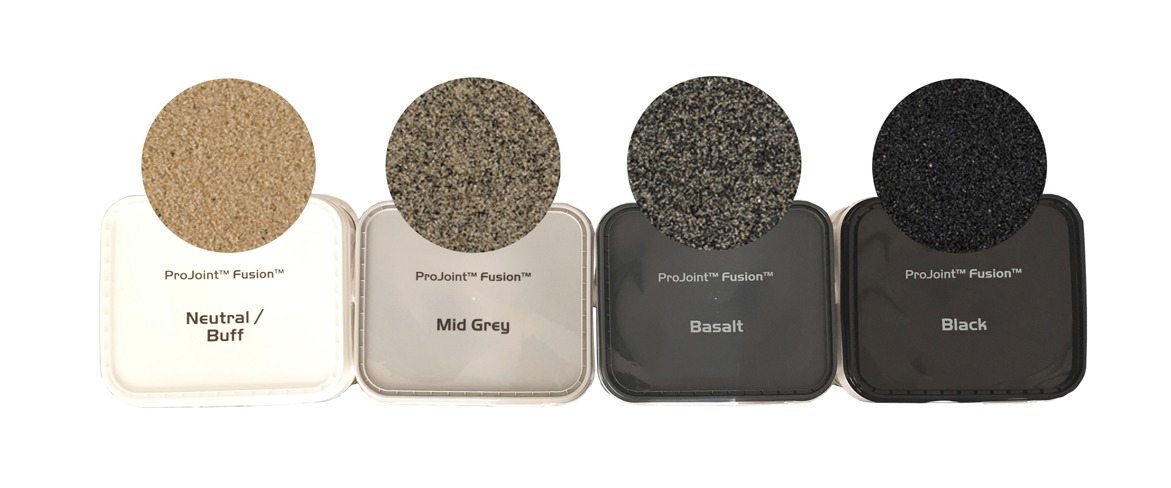 Following application, it is expected that this product may highlight and enhance the natural surface colours and textures of the paving.  This is only a temporary effect as weathering and foot traffic accelerate its disappearance.  Typically the sheen that remains is even and thin and dissipates over a short period of time.
Please note that cold and wet conditions will increase the ProJoint Fusion curing (setting) time – freezing weather will cause the process to temporarily cease however it will set as temperatures increase and the quality of the finished product will not be affected.ProJoint Fusion is not recommended for use with porcelain paving – please refer to the ProJoint Porcelain Primer and Grout product pages for more information.
Approximate coverage per 15kg kit
Joint Size
600x600mm slabs
Four size Indian
(600mm series)
100x100mm setts
15 x 25mm
6.67m2
5.7m2
1.11m2